For personally signed copies of Martha's books, call the wonderful folks at Mysterious Galaxy. They'll take care of inscriptions, shipping, even gift wrapping. Contact orders@mystgalaxy.com or call 800-811-4747.
Contents © 1996 - 2015 by Martha C. Lawrence except where noted. All rights reserved. No part of the contents herein may be used or reproduced in any manner without written permission except in the case of brief quotations embodied in critical articles or reviews. For information, address St. Martin's Press, 175 Fifth Avenue, New York, NY 10010.
ASHES OF ARIES

Press Release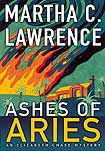 "Save a spot on the bestseller list for author Martha Lawrence and her savvy investigator."
--Sue Grafton


Elizabeth Chase has made a career of bridging the psychic and the physical world. She uses both of her skills as a licensed P.I. and a psychic to solve cases that no one else is able to. In ASHES OF ARIES, Frank Fielding, a San Diego telecommunications mogul, turns to Elizabeth when his four-year-old son, Matthew, mysteriously disappears from their backyard. Sensing that the boy is still alive, Elizabeth begins her investigation. She is soon distracted, however, when a fire sweeps through the secluded community where Matthew's family lives. When a second fire sweeps through Frank Fielding's company headquarters, Elizabeth begins to suspect that they are man made, not forces of nature. Are the arsonist and the kidnapper the same person? And can Elizabeth find Matthew before any more damage is done?

Like the Santa Ana winds that sweep through the story, ASHES OF ARIES is a fast-moving, out-of-control story that will keep you on the edge of your seat.


For information about media or event bookings, contact
linda.mcfall@stmartins.com

ASHES OF ARIES
Martha C. Lawrence
September 2001
0-312-20299-7
$23.95