ASHES OF ARIES NOMINATED FOR THE 2002 SHAMUS AWARD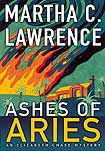 Winners will be announced at the Shamus Awards Banquet in Austin, Texas, Thursday night, October 17, the week of--but not as part of--Bouchercon 2002.
---
REPORT FROM BOUCHERON IN WASHINGTON, DC
NOVEMBER 2001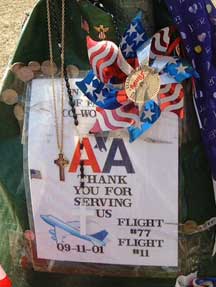 What a year to hold the Bouchercon World Mystery Convention in Washington, DC. Just seven weeks earlier, terrorists had crashed American Airlines Flight 77 into the Pentagon. In the days leading up to the convention, we received daily reports of anthrax attacks on the capital. Was this a good time to convene in Washington to talk about mysteries?

It certainly was. In fact, it may have been one of the most memorable Bouchercons in the 32-year history of the event. The impact of September 11 was an unavoidable topic this year. By popular demand, S. J. Rozan conducted a panel on the subject. Those of us whose writing had suffered in the aftershock of the attacks felt renewed inspiration, hearing that we weren't alone in our struggle to find meaning. It was also inspiring to hear readers assure us that they needed fictional respites from current events.

We found plenty to cheer about this year. At the Anthony Awards banquet, toastmaster Michael Connelly pointed out that the convention was full, the panels were well attended, and the dealer's room was doing brisk business. The crowd applauded, and Michael turned the floor over to the numerous attendees from overseas. The international guests raised their glasses and toasted America. More resounding applause. No joke: you could feel the love.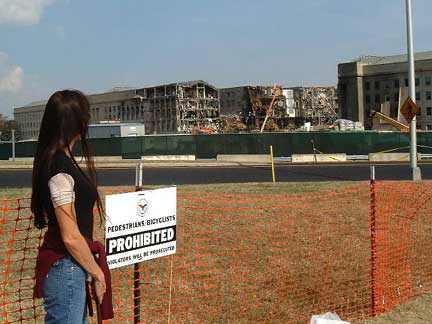 I felt drawn to see the Pentagon, just two Metro stops from the convention hotel. I'd viewed the ravaged building dozens of times on TV, yet standing in front of those offices--walls gaping open, insulation hanging in shreds--kicked me in my emotional gut. I stood reverently with several others on a grassy knoll nearby and watched as workers hosed down the rubble and bulldozers shoved it aside. Under the trees, humble memorials had been erected to those who'd lost their lives: a laminated booklet of letters from expressing their condolences; a poster commemorating the passengers and crew of Flight 77 ("Thank you for serving us"); a photo montage of one of the victims--"scientist, mother, and wife"--in happier times.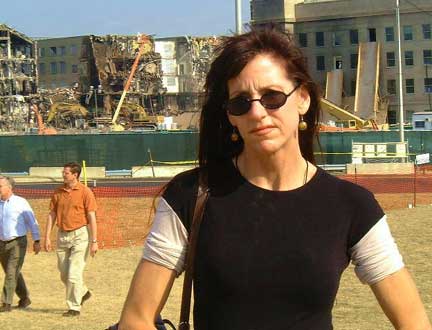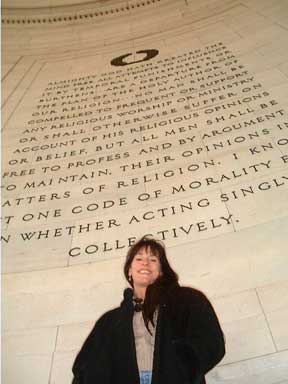 I traveled a few more Metro stops to see the capital. Soldiers carrying M-16s patrolled the sidewalks. Snipers on top of key buildings kept a watchful eye on the crowds below. Cement partitions barricaded the Smithsonian, the White House, and the Washington Monument. Yet people were patient and I sensed tolerance, even appreciation, for the heightened security. At the Jefferson Memorial I read a familiar phrase carved into the marble: "I have sworn upon the altar of God eternal hostility against every form of tyranny over the mind of man. All...shall be free to profess their opinions..." The words sang with more meaning than ever before.

Back at the convention, I struck up a conversation with Rob Kresge, an aspiring writer. He was looking for an agent and wanted to know if I'd pass his name along.

"Of course," I replied, and he handed me a card. I raised my eyebrows as I read his title: Director of Central Intelligence/Counterterrorist Center. "Wow," I said, "tell me about your book." I expected to hear Rob give me a synopsis of some timely spy thriller.

"Kind of a cozy historical, set in Wyoming in the 1800s," he said with a proud author's smile.

Yes, it was a great time to talk about mysteries at the capital.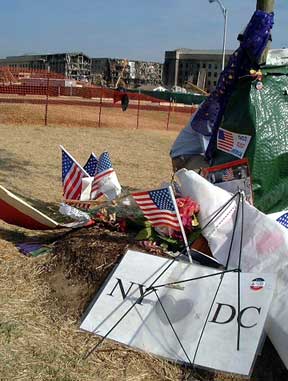 ---

ASHES OF ARIES,
the fifth Elizabeth Chase novel, is now available from St. Martin's Minotaur. Congratulations to Melanie Taylor of Garland, Texas, who won a signed copy of ASHES OF ARIES in our recent drawing. Congrats as well to Lisa Weissenbuehler, Michael Paynter, and Carol Galante, our runners-up who received a copy of the new PISCES RISING paperback. Stay tuned for details about our next contest, in which the winner will receive a personalized astrological chart reading by Martha. If you want to be eligible for these occasional drawings, click the link to join
Martha's MysterE-Mailing List
.
NERO WOLFE AWARD: This just in...PISCES RISING has been nominated for the Nero Wolfe award. Past winners include Dennis Lehane, Michael Connelly, and Laurie King, so it's indeed an honor.
PISCES IN PAPERBACK: Look for the paperback edition of the award-nominated PISCES RISING in September.
NEW STORY AVAILABLE: "The Sea Cave," a non-Elizabeth Chase short story by Martha C. Lawrence, has been published in MALICE DOMESTIC 10, an anthology presented by Nevada Barr. (Avon, $6) Pick up a copy from your favorite bookstore or buy it online now at Amazon.

HONORED AGAIN: The San Diego Magazine Book Awards named PISCES RISING the best work of fiction reviewed in 2000. Here's what they said:

"Only a writer as skillful as Lawrence could make (a private investigator with psychic powers) so believable. As murder mysteries go, PISCES RISING is as riveting as the best of them, but there's also a contemporary subplot, as Lawrence takes on the politics of Indian gaming."

---
G IS FOR GRACIOUS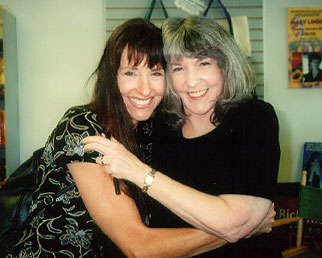 I had the honor to welcome the inimitable Sue Grafton to San Diego for her P IS FOR PERIL signing at Mysterious Galaxy. She's the most down-to-earth megatalent I've ever met. Love you, Sue!

---
BARE BONES WRITERS CONFERENCE IN JULIAN, CALILFORNIA, MARCH 2001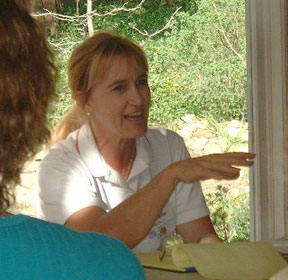 Barbara Seranella, one of my favorite characters, gives tips on developing characters. Looking for a good book? Read Barbara's NO HUMAN INVOLVED, NO OFFENSE INTENDED, or UNWANTED COMPANY.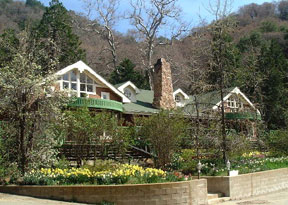 The main dining/lecture hall.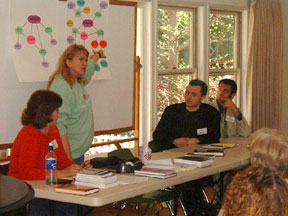 Taffy Cannon, author of the Agatha-nominated GUNS AND ROSES, uses a flow chart to explain the current state of publishing.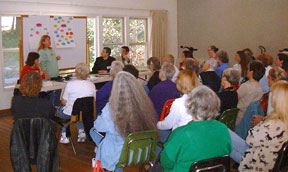 The enraptured (confused?) audience listens.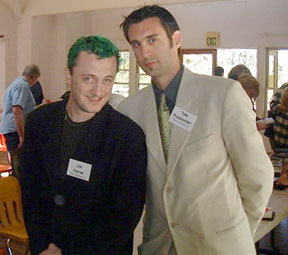 Jim Pascoe and Tom Fassbender, the cool dudes of Uglytown Press.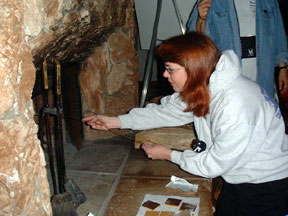 Maryelizabeth Hart of Mysterious Galaxy roasts a marshmallow for her S'mores.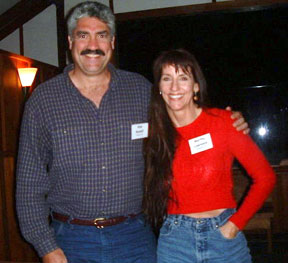 Alan Russell and I led a read-and-critique workshop of works in progress.

---
The Mystery Bookstore 2001 Anniversary Party, Los Angeles, California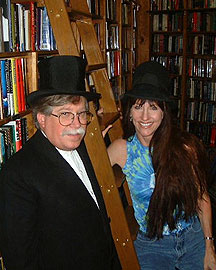 Hats off to the one-and-only Shelly MacArthur of The Mystery Bookstore in Westwood, who threw a fabulous party.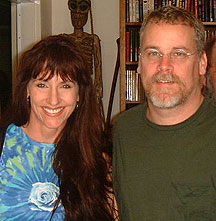 Is he a master storyteller, or what? Read Michael Connelly's New York Times bestseller, A DARKNESS MORE THAN NIGHT, and judge for yourself. I say Michael rules.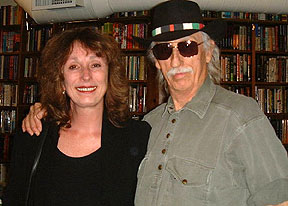 What a team. One marriage, two mystery greats: Gayle and Dennis Lynds (a.k.a. Michael Collins).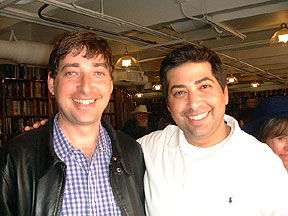 O Brother Where Art Thou? Lee Goldberg, producer of DIAGNOSIS MURDER and writer of mystery novels, with his brother Tod Goldberg, whose FAKE LIAR CHEAT was just sold to Miramax for big bucks.
---