For personally signed copies of Martha's books, call the wonderful folks at Mysterious Galaxy. They'll take care of inscriptions, shipping, even gift wrapping. Contact orders@mystgalaxy.com or call 800-811-4747.
Contents © 1996 - 2015 by Martha C. Lawrence except where noted. All rights reserved. No part of the contents herein may be used or reproduced in any manner without written permission except in the case of brief quotations embodied in critical articles or reviews. For information, address St. Martin's Press, 175 Fifth Avenue, New York, NY 10010.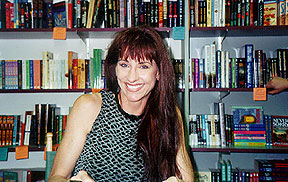 Have you had a psychic experience? Please e-mail Martha-- she'd love to hear about it.
martha(at)marthalawrence.com
(Use the @ sign if you're not a spambot!)
---
Join Martha's MysterE-Mailing List
Sign up for info on upcoming publications, book signings, and media appearances. Your data will be kept strictly confidential and won't be shared with anyone without your prior permission.

---
Are you on AOL?
Drop in and share your thoughts on
Martha's AOL Message Board