For personally signed copies of Martha's books, call the wonderful folks at Mysterious Galaxy. They'll take care of inscriptions, shipping, even gift wrapping. Contact orders@mystgalaxy.com or call 800-811-4747.
Contents © 1996 - 2015 by Martha C. Lawrence except where noted. All rights reserved. No part of the contents herein may be used or reproduced in any manner without written permission except in the case of brief quotations embodied in critical articles or reviews. For information, address St. Martin's Press, 175 Fifth Avenue, New York, NY 10010.
MARTHA'S APPEARANCES
Saturday, May 14, 2:00 p.m., Mysterious Galaxy, 7051 Clairemont Mesa Blvd., San Diego, CA 92111. After a looooong hiatus, Martha will be signing copies of San Diego Noir. For more information, call 858-268-4747.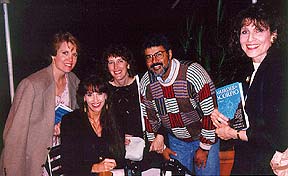 The author, seated, delights in signing books for (left to right) Vickie, Debbie, Larry and Lea.