For personally signed copies of Martha's books, call the wonderful folks at Mysterious Galaxy. They'll take care of inscriptions, shipping, even gift wrapping. Contact orders@mystgalaxy.com or call 800-811-4747.
Contents © 1996 - 2015 by Martha C. Lawrence except where noted. All rights reserved. No part of the contents herein may be used or reproduced in any manner without written permission except in the case of brief quotations embodied in critical articles or reviews. For information, address St. Martin's Press, 175 Fifth Avenue, New York, NY 10010.
Ashes of Aries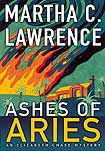 When Matthew Fielding, the four-year-old son of a telecommunications mogul, turns up missing, the psychic skills of P.I. Elizabeth Chase are requested. Soon after, a wildfire breaks out in the secluded community where Matthew's family lives. Aided by the Santa Ana winds, flames rage out of control and the consequences prove deadly. When a second fire sweeps through Fieldings' company headquarters, Elizabeth suspects that forces more sinister than nature are at work. Are the arson fires connected to the kidnapping and--more importantly--can Elizabeth find Matthew before it's too late?
---
Reviews
"Elizabeth Chase is at it again. This time, the psychic private investigator has been called in to help solve a case no one else can get a handle on--the kidnapping of a small boy from a very wealthy family.... Lawrence has written another high-speed mystery, with all the right plot twists and turns. Chase is, as always, a sweet and heroic protagonist, willing to take chances other, far more macho investigators won't. She's also growing as a character--through her friendship with Sequoia (introduced in Lawrence's previous book, Pisces Rising), a Native American shaman teaching Chase the way to search for answers to life's big and small questions....Elizabeth Chase is hard to resist, and Lawrence is such a gifted storyteller."
--Eilene Zimmerman, San Diego Magazine
"The very rich telecommunications mogul Frank Fielding 's four-year-old son Matthew has disappeared. Out of desperation, the San Diego sheriff's department turns to the psychic P. I. Elizabeth Chase. Her abilities sense fire, and she is right on when a fierce firestorm rips through the Fielding's neighborhood that they share with Chase's parents. The fire kills both Fieldings, and threatens Chase personally when she must battle its dangers to determine if her own parents survived. A second fire near the Starcom Company that Fielding founded establishes a pattern of arson that shifts the focus of the investigation away from the missing Matthew and more towards the motive for his kidnapping. The descriptions of these California wildfires are powerful and frightening. Fire becomes a metaphor, destroying most things in its path, before beginning a cycle of renewal. The motive for arson becomes the key to the struggle to end the destruction and capture a murderer. Chase tries to work this case with a professional team of investigators split on whether or not they believe in her capabilities. What keeps this series so interesting is that Chase doubts her own abilities and is vulnerable to the timing of her gift. What happens is that this P. I. has to practice solid detective methods to get to her goal and this has matured her over the five books in this series into one of the more dependable female P. I.'s in the field. Recommended."
--Gary Warren Niebuhr, Mystery News
"Psychic private eye Elizabeth Chase employs her particular skills to locate a kidnapped four-year-old San Diego boy and an arsonist responsible for a nearby terrible wildfire. Could arsonist and kidnapper be one and the same? A fine series."
"Lawrence brings back psychic detective Elizabeth Chase in this steadily improving series. Wealthy neighbors of Elizabeth's parents in San Diego have lost their four-year-old son Matthew. As the Santa Ana winds blow, Elizabeth is called in by skeptical yet desperate police to find the boy, who disappeared without a trace. When Matthew's parents are killed in a suspicious fire, Elizabeth investigates the father's controversial high-tech company, Starcom. Motivated by her strong feeling that little Matthew is still alive, Elizabeth races to find him, using a combination of psychic powers and traditional investigative skills. Helping develop her powers once again is mysterious shaman Sequoia, introduced in Pisces Rising. Just as skeptical police are dismissive of Elizabeth's power, so skeptical readers may resist the idea of a psychic sleuth, but Lawrence makes her character believable by stressing Elizabeth's humility and honesty, as well! as the awe she feels about her gift."
--Jenny McLarin, Booklist
"Exactly what I wanted, and a pleasant surprise at that, Lawrence's newest book in the Elizabeth Chase psychic PI series is a quick read. To be honest, I had just about given up on American female PI novels--they all sound the same--but I picked this one up on a whim and found that I liked the characters enough in chapters 1 and 2 that I kept reading--and to my delight, discovered that the author can plot, that her characterizations are fair and accurate, and the psychic phenomena were downright interesting. At the beginning Elizabeth is practicing archery with her friend Sequoia, a Native American shaman. Reminiscent of both Star Wars and basic Zen philosophy, Sequoia advises Elizabeth to use the power around her, whether she is aiming an arrow or investigating a case. The advice comes in handy when Elizabeth is called to help look for a missing child. She is both hindered and assisted by a nosy television reporter, various police, FBI, and fire department personnel. Elizabeth's parents get involved, too, when their neighborhood burns up. The wildfire descriptions are exceptional and serve to keep the tension crackling. I could practically smell the smoke. Lawrence hits the bull's-eye."

"I read this book in one big gulp, and I'm so glad I did. The tempo never let up, steady and strong as the Santa Ana winds fueling the fires in this fast-paced mystery.

Elizabeth Chase is a private investigator with a special gift -- she is psychic. Unable to locate the four-year-old son of a telecommunications CEO, the San Diego Sheriff's Department hires Elizabeth to help them find Matthew Fielding almost a week after the boy's disappearance. Unsure if this is a kidnapping, authorities have searched and found no clues as to why the child went missing.

The next day a wild fire spreads rapidly through the neighborhood, and the Fieldings' home is destroyed, killing Matthew's parents in a particularly gruesome scene. Elizabeth helps fire marshals search the burned wreckage for clues. Where did this fire start? Was it nature or man who set this blaze? Elizabeth's investigation is intertwined with that of the reporter from Channel 3 news, who is seeking the same answers, their steps coinciding at turn after turn, both hindering and aiding each other.

The same fire almost destroyed Elizabeth's parents' home just a hillside away. Elizabeth's close relationship with her father and mother is portrayed quite realistically and with great skill - intense but not melodramatic. Their pet Mr. Poe has a charming habit of quoting his namesake as well.

A second fire burns down part of the building housing Fielding's megabucks company and a nearby apartment complex. Conjecture on company politics and legal doings abound until Elizabeth finds a key piece of evidence. An overly dedicated firefighter with a hero complex, an overachieving newsman, a disbelieving FBI agent are all men that Elizabeth must deal with in trying to get to the truth in this case.

Martha Lawrence has a unique conversational tone about her writing. I never tripped over her words or got lost following clues. I was never jolted back into the reality of my own bedroom from those dusty, windy canyons. I even enjoyed her use of the word "discombobulated" and the up-to-date references to present-day events.

Portraying just the right mix of emotions, we learn about Elizabeth's relationship with her mentor Sequoia who urges her to "use the power around you," the very words that continue to ring in her ears throughout this novel. Any "woo-woo" factor associated with the term "psychic" is dispelled by the character herself through her everyday dealings with others. One scene in this novel in which this element of her personality is used to provide a respite in the very focused story is when the Channel 3 news reporter asks Elizabeth if his house is haunted. I won't give away her answer.

I have really enjoyed the entire Elizabeth Chase series so far including MURDER IN SCORPIO, THE COLD HEART OF CAPRICORN, AQUARIUS DESCENDING, and PISCES RISING. Each one tells a solid and intense story with the same proficient use of language and emotion.

Frankly, I wish Elizabeth Chase lived next door. She's a fascinating character I'd like to meet in real life."
"It's October, and San Diego swelters in the hot, dry embrace of the Santa Ana winds, while in canyons and on mesas, tinder-dry brush waits for a spark to set it ablaze. It's a scenario that county residents know well, and one that local author Martha C. Lawrence employs skillfully in the latest installment of her series starring psychic detective Elizabeth Chase.

The 4-year-old son of electronics mogul Frank Fielding has been abducted from the family's Rancho Santa Fe estate. No ransom demand has been received. The police are stymied, so they turn to Elizbeth, who combines her ability as a private eye with her gift as a psychic. That gift assures her that the boy is alive, but does not tell her where he is being held. Before she can explore further, an arson fire sweeps across the posh community.

There would seem to be no connection between the arson and the kidnapping, but Elizabeth changes her mind when a second fire damages Fielding's company headquarters in the Sorrento Valley. There are suspects aplenty, ranging from disgruntled employees to radical environmentalists, and even including a dashing TV newsman to whom the psychic P.I. is more than just a good story.

While Lawrence's use of local landmarks and her evocation of the San Diego ambience provide an extra level of enjoyment for natives, there's no reason that foreigners can't share in the fun. Lawrence is an ingratiating storyteller who never fails to deliver a full measure of entertainment for all, no matter where they happen to live."
--San Diego Union-Tribune
"The hot Santa Ana winds blow a constant background to psychic investigator Elizabeth Chase's latest case. Matthew Fielding, four-year-old son of wealthy high-tech mogul Franklin Fielding, has been kidnapped from their Rancho Santa Fe home, next door to Elizabeth's parents' house. Faced with no clues and no ransom note, the cops call in Elizabeth. In the Fieldings' house, she smells smoke, although there is ostensibly no fire. Within hours, though, a wildfire is raging through Rancho Santa Fe. Racing to help her parents, Elizabeth takes TV reporter Randy Twain into the inferno to save his camerawoman, who was nearly overcome while filming the Fieldings' incineration in their Jaguar. Elizabeth's parents and their home survive the blaze, but Matthew, now an orphan, is still missing. Meanwhile, the fire department discovers that although the Santa Anas fanned the flames, an arsonist is responsible for exploding the Fieldings' propane tank. Convinced Matthew is still alive, Elizabeth investigates Franklin Fielding's family, including the childless sister he named Matthew's guardian, and Starcom, his giant telecommunications company. With unsolicited help from reporter Twain, she uncovers executives inflamed by rivalries and protesters incensed by environmental issues. Sifting through the ashes of more arson, and battered by the unrelenting Santa Anas, Elizabeth must trust a clairvoyant vision to find Matthew--and her mother's strength to save her from the arsonist.
Complemented by more mundane detective work, Chase's psychic intuition fits right into the apocalyptic southern California landscape. Lawrence jazzes up traditional hard-boiled hunches with New Age parapsychology to deliver old-fashioned excitement."
"In her fifth astrological adventure (after 2000's PISCES RISING), psychic PI Elizabeth Chase faces an unusual and riveting mystery that will give pause to even the most ardent skeptics. When San Diego telecommunications mogul Frank Fielding's four-year-old son, Matthew, disappears, the Fieldings ask detective Bruce Loebman to call in Elizabeth for help. But before the unconventional sleuth, whom Loebman reluctantly consults, has a chance to focus on the case, a wildfire, fueled by the Santa Ana winds, ravages the exclusive community where the Fieldings live, destroying property and thousands of acres of land. When another fire breaks out, she discovers that it's the work of an arsonist who may also be Matthew's kidnapper. Dismissed by doubting Thomases, Elizabeth steps up her own investigation to find the little boy before it's too late. Her two Ph.D.s from Stanford and her prior psychic successes aren't necessary to make her a plausible, likable heroine, but they don't hurt. Her work with her shaman-mentor, the Luiseno Indian Sequoia, only adds to her credibility, as he teaches her to harness power from the natural world around her that the author describes so well. Lawrence effectively combines the earthly and the inexplicable in this fascinating page-turner, and its dramatic ending will delight committed fans as well as attract new ones.

Lawrence's work has been nominated for Edgar, Agatha, Anthony, and Nero Wolfe awards."