North [San Diego] County Times, January 26, 1997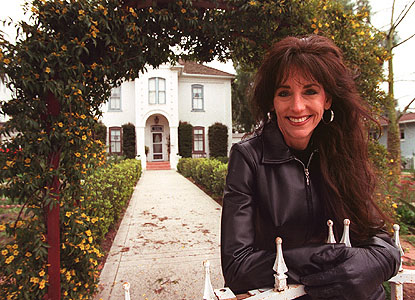 Mystery writer Martha Lawrence poses in front of the Hooper House in Escondido. Built in the 1800s, the structure is home to Lawrence's psychic detective Elizabeth Chase in her latest book, "The Cold Heart of Capricorn."
Photo by Don Boomer.
Signs Of Mystery
By Jane Missett
A vivid imagination, an eye for detail and a good ear for dialogue are all necessary attributes for a successful mystery writer.
Add to those the deeper insight provided by firsthand experience, and the results may be exceptional.
"The Cold Heart of Capricorn," by Escondido-based author Martha Lawrence, is exactly that: a riveting, innovative story driven by remarkably credible characterization.
The first hint of the author's extraordinary perception is in the dedication quote: "To those who've been there-from one who has also."
The plot revolves around a serial rapist terrorizing a San Diego neighborhood. Having been a victim of a serial rapist in 1985, Lawrence drew on personal, painful memories of that ordeal and its aftermath, uncovering deeper layers of character and emotion than are typically found in the mystery genre.
In her case, the rapist was caught and convicted. Lawrence was one of several women who picked him out in a lineup. She recalled the tense moments spent waiting for the suspects to appear: "I was having all these doubts. What if I didn't recognize him? Then, as soon as the guy walked out-he was No.2 -I broke down crying." There were nine known victims and five, including Lawrence, testified at his trial. Ten years later, she thought she could draw on the experience without emotional hardship. She now admits that wasn't the case.
"A lot of this book was painful to write. I'd be sitting at the monitor writing dialogue and I'd have to stop and just cry."
Despite any personal trauma, Lawrence is glad she stuck with it. "I'm really proud of this book," she said. "The fact that I could go through that and come out the other side and be able to write about it-talk about making lemonade from lemons!"
"The Cold Heart of Capricorn" brings back Lawrence's delightfully original and appealing main character, a psychic private investigator named Elizabeth Chase. First seen in 1995's highly praised "Murder in Scorpio," Chase uses all her paranormal talents to uncover clues to track down an increasingly violent rapist.
Typical mysteries are centered on murder, and the victim or victims are often killed off by the end of the first chapter. In her second book, Lawrence delivers several viewpoints without exploiting the savage realities of the crime.
"I don't need that imagery inside me," she said. "This is a book about survivors, not about victims."
As the story unfolds, Chase tracks down four of the rapist's victims. "Each one is sort of an archetype. People respond to traumatic experiences in different ways."
One of the characters, an affluent Latino woman with a scarred face, was based on someone the author met while helping others deal with post-traumatic stress. The woman's ex-husband had stalked and raped her, and cut her face.
On a lighter note, she said, her next book deals with a wild and kooky cult that entices new members with sex, drugs and rock 'n' roll. "The research has been great fun," she laughed.