MORE NEWS & PHOTOS...
---
PHOTOS FROM BOUCHERCON 2000 IN DENVER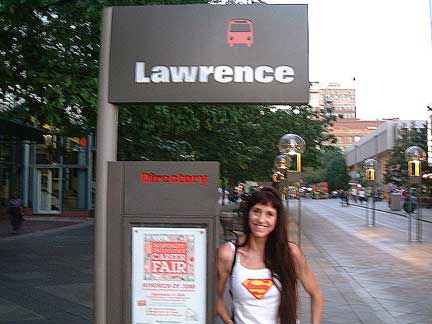 Feeling right at home on the 16th Street Mall in Denver.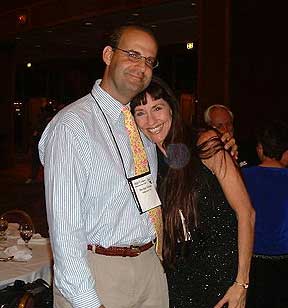 Enjoying the Anthony Awards with that snazzy dancer, Harlan Coben. Look for his new novel, TELL NO ONE, in June 2001.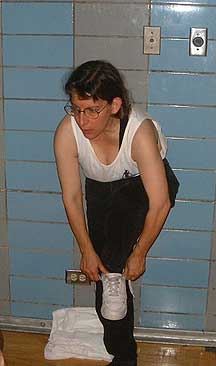 S.J. Rozan, organizer of the infamous Bouchercon Basketball Game, gets ready at courtside. Check out Rozan's latest novel, REFLECTING THE SKY.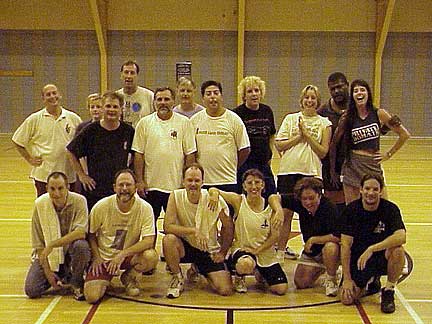 The all-star team. Never mind Harlan Coben's comment: "The game was so pathetic, if it had been a dog I would've had to shoot it in the head."
Top Row: ?, ?, David Housewright, John Westerman, ?, Parnell Hall, ?, Steve Hamilton, Laura Lippman, Gary Phillips, Martha Lawrence.
Bottom Row: Walter Sorrells, W. Kent Krueger, Bill "Animal" Fitzhugh, S. J. Rozan, ?, Marshall Kintz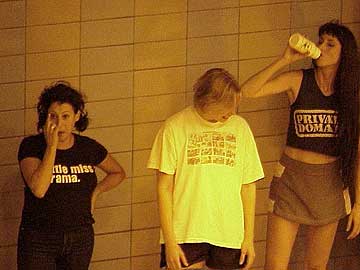 Lauren "Cartwheel" Henderson, Laura Lippman, and I take a time out.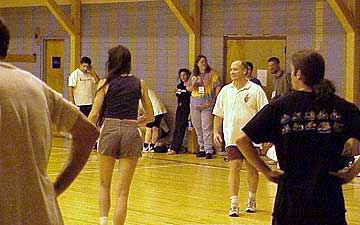 The game dribbles to an end.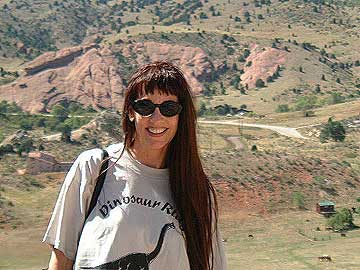 After the conference I visited Dinosaur Ridge, a world famous geological and paleontological outdoor museum of dino bones and tracks located in Morrison, Colorado.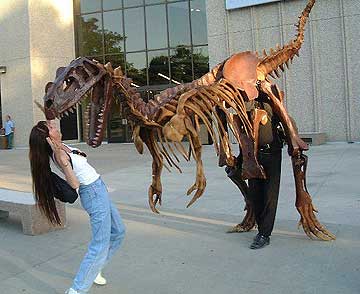 I had a startling encounter with an Allosaurus at Denver's Museum of Natural History.
---
AT THE 2000 EDGAR AWARDS IN NEW YORK CITY


Shamus award winner S.J. Rozan and Anthony Mason, host of CBS's "Fine Print."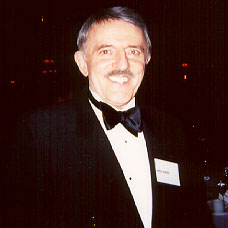 John Astin (a.k.a. Gomez Addams!), who plays Edgar Allan Poe in "Once Upon a Midnight." Check it out!: www.astin-poe.com.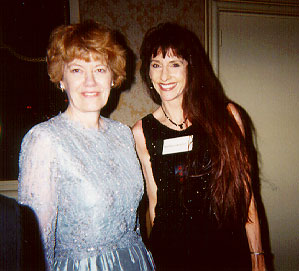 With Anne Perry, whose "Heroes" won the Edgar for Best Short Story.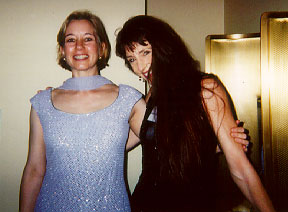 Hamming it up with Laura Lippman, also an Edgar winner.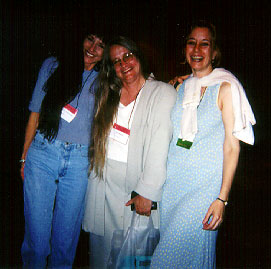 Laura Lippman (right) and I congratulate Edgar winner Jan Burke (center), whose "Bones" was voted Best Novel of 1999.
Signing books with Sue Grafton and Ridley Pearson at the Murder in the Grove Conference in Boise, Idaho.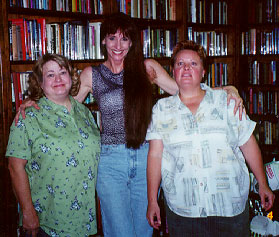 At Book Carnival with Deb and Mary, who drove all the way from Apple Valley, CA. Thanks, guys!
---
PHOTOS FROM MARTHA'S PISCES RISING TOUR


Connie Hill, astrologer extraordinaire, gave astrology readings at my Murder By The Book signing in Portland. Want a reading? E-mail Connie at gmnite@yahoo.com.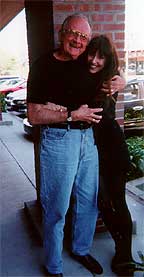 A hug in Thousand Oaks for Chuck Morrell of St. Martin's Press, who patiently drove me through all that L.A. traffic.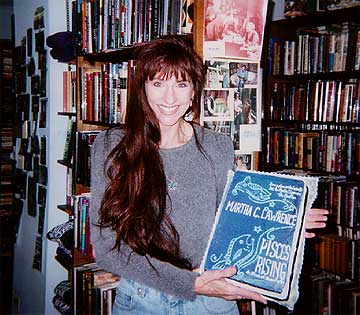 The cool chicks at Murder By The Book in Denver presented me with this spectacular Pisces Rising cake. Lemon filling--yum!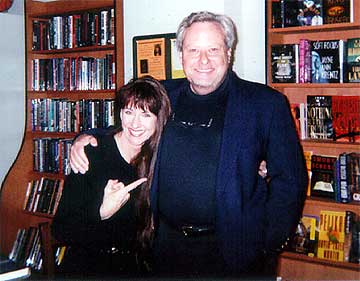 M Is For Mystery, San Mateo, California. This guy, Bill Reinka, could write a book about all the crazy authors he's escorted around the San Francisco Bay Area. In fact, he has. . . .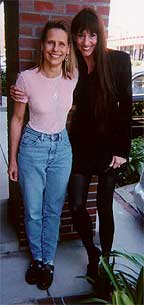 Mysteries To Die For, Thousand Oaks, California. On the left, Denise Picard, president of the Martha Lawrence fan club. On the right, Martha Lawrence, president of the Denise Picard fan club.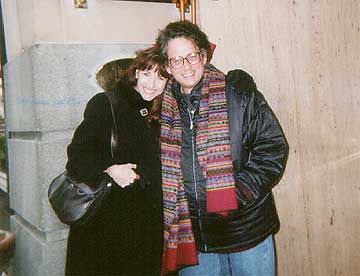 At the KXL radio station in Portland I met Andrew Harvey, a world-renowned religious scholar who's as humble as he is enlightened. Feast your soul on his sublime book, The Direct Path.
---
A GOOD TIME HAD BY ALL AT EYECON IN ST. LOUIS
Big thanks to Robert Randisi and Christine Matthews for hosting a private eye writers' bash to remember.

With Baltimore's Laura Lippman and AOL maven Jacquelynn.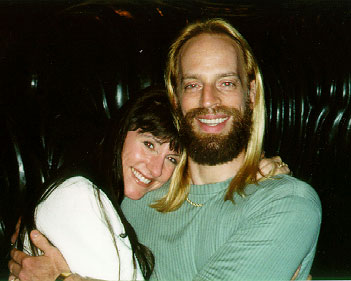 A happy moment with the ever-witty Lev Raphael.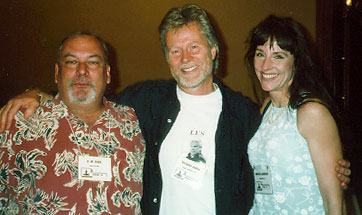 G.M. Ford, Richard Barre, and their devoted fan.
AN EXTRAORDINARY SHARED PSYCHIC EXPERIENCE
AT THE HUNTINGTON BEACH LIBRARY
I had an amazing experience at the Huntington Beach Library after a talk I gave on Friday, June 11. During the Q & A, some employees mentioned that the library had a presence in it. Two of the library administrators, Dorothy Boesch and Bea Hanser, took me on a tour of the building. We went into the basement and immediately all the hairs on the back of my neck stood up. I told Dorothy and Bea that there was definitely something going on in the area. While we were standing there talking the three of us heard a man calling out, "It's okay--" and then more words we couldn't quite make out. The male voice was very loud and so plain that Dorothy said, "Oh, my goodness. Someone's down here." We looked all around, calling out, "Hello . . . hello." Then it dawned on us that the lights had been out when we came in. No one, of course, was there.

What excited me about this particular experience was that even the two "non-psychic" people heard the man's voice, not just me. When we related our experience to the woman in the office at the top of the stairs, she said, "A man's voice? Well, you know there was a man who shot himself at the bottom of the basement stairs a few years ago. . . ."

Neat, huh? That's one of the few times I've had a shared psychic experience like that.

If you happen to know more about the suicide that occurred at the Huntington Beach Library a few years ago, please contact martha@marthalawrence.com. I'd like to get in touch with the man's family and let them know that I distinctly heard the man say, "It's okay."

To meet Dorothy and Bea and see the haunted library, check out "Martha's video."
---
MARTHA AT THE 1999 L.A. TIMES FESTIVAL OF BOOKS

The 1999 Los Angeles Times Festival of Books brought thousands of book lovers to the UCLA campus for two days of panels, signings and book browsing.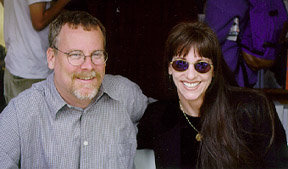 Michael Connelly and Martha take a break from book signing at the Skylight Books booth.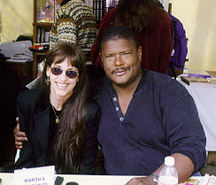 Martha and Gary Phillips take a moment to connect.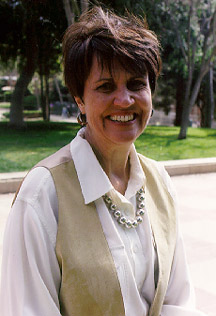 Margaret Coel, author of the Wind River Arapaho mysteries.
---
MARTHA TRAILER TRASHED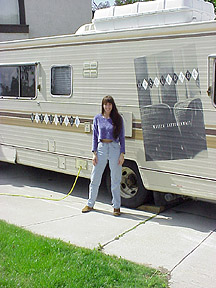 Determined to roll from sea to shining sea, Walter Satterthwait breezed through town on his Terrible Trailer Trash Tour. (For a guided video tour of the trailer, check out http://www.satterthwait.com.) That's the trailer in the background, me on the left, and on the right, a painting of his mystery, MASQUERADE. Happy trails, Walter!
---
MARTHA AT THE BARE BONES WRITERS' CONFERENCE IN JULIAN, CALIFORNIA

Sue Grafton checks her notes.

Nancy Pickard just finished her novel, THE WHOLE TRUTH. No wonder she's smiling.

Sue Grafton signs "K Is For Killer" for an appreciative fan.

Here I am with Kathy (on the left) and Maureen (on the right), a couple of fun-loving mystery fans.
---
LEFT COAST CRIME 1999- AN ALBUQUERQUE RETROSPECTIVE
The ninth annual Left Coast Crime mystery conference in Albuquerque, New Mexico had a character all its own. Laid-back, Southwestern style, but with lots to stimulate the intellect. The theme was the literary mystery and the highlights were memorable:
Debating the limitations of the mystery novel with John Dunning
Adjusting to the altitude
Listening to Tony Hillerman reminisce about selling his books to Hollywood
Marveling at how many quarts of water one must consume in the high desert
Watching Sally Chapman, Gini Hartzmark, Janet Dawson, Camille Minichino and Jonnie Jacobs tell it like it is about professional investigators
Tromping around the ancient petroglyphs outside of town
Finally meeting Walter Satterthwait, of "The Terrible Trailer Trash Tour" fame
Giving the authors on my panel a hard time (see photos)


Here we are: That's Barbara Seranella, Christine Jorgensen, me disguised as my alter ego (Xena Warrior Princess), and Penny Warner. We're waxing philosophical about breaking the rules of mystery fiction.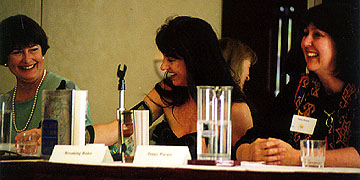 Christine, Xena, and Penny share a good laugh.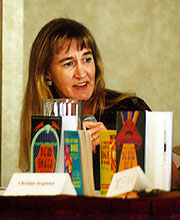 Barbara Seranella dishes out some rule-breaking advice. She oughtta know.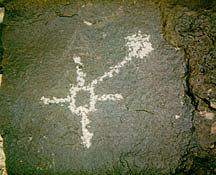 Here's an intriguing photo I took at the Petroglyph Monument outside of Albuquerque. To me it looks like some mysterious force from outer space influencing the four corners of the earth--but what do I know?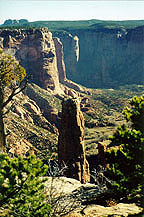 Spider Rock, Canyon de Chelly, Arizona. This amazing formation rises 800 feet from the canyon floor. I saw it in a vision once--no kidding.
---
THANK YOU, ALL

Heartfelt thanks to all the wonderful booksellers and readers who made my book tour so much fun. Here, superfan Denise Picard graces me with a hug at the Mysteries To Die For signing in Thousand Oaks, California.